Yes, men's fashion is a big industry now. Millennials today are very particular about their looks and clothing. This true for both male and females. The list of top 10 Men's fashion magazines includes some of the best magazines from top publishers in India. Brands have also understood this change and are constantly coming out with products which fulfill the desires of the new generation. This list of top 10 Men's fashion magazines provide you the best source of the current men's fashion trends, so you don't have to search any where else.
1. GQ India
What a man's got to do: Look Sharp. Live Smart. Right now. Download the latest issue of GQ India in full, featuring the best in Style, Cars, Gadgets, Babes and The Good Life. Enjoy all our in-depth articles and great photo shoots, instantly delivered in stunning high resolution. Perfect for traveling or while-u-wait.
2. The Man
The luxury magazine for the discerning male, THE MAN brings the latest tips and fashion mantras to the men who love to steal the show wherever they go. Highlights: * Exclusive interviews with top celebrities * Articles on luxury and lifestyle and more.
3. MW (Mans World)
MW (Mans World) is India's first men's luxury lifestyle magazine. It has been the lively, vibrant and authoritative voice of the globalised urban Indian male for more than a decade. Its coverage reflects the energy and verve of the new and successful India. MW stands out for quality writing, depth of content and sumptuous photography, backed by elegant design & production. Whatever Indian men are looking for these days -- clothes, cars, gizmos, electronics, books, movies, wines, music, fitness, relationship, adventure, travel-- MW provides them with much needed information and advice to help lead life to the fullest.
4. Marwar India
Marwar is a bi-monthly community-based magazine with an emphasis on profiling the best and the brightest in the Marwari community. The magazine reaches the elite in India and abroad who want to read and discover the wonders of all things connected with the community. Thus, the subjects featured have to have the flavour of Marwar and Rajasthan—its culture, lifestyle and traditions. We highlight arts, crafts, music, dance and theatre as well as fashion and food that are connected to the region apart from immensely successful businessmen and businesswomen. In the past, luminaries like Laxmi Mittal, Abhishek Manu Singhvi, Indu Jain and Kumar Mangalam Birla, to name a few, have graced our cover. The magazine has a circulation of 330,000 and retails at 150 and $6.
5. WatchTime India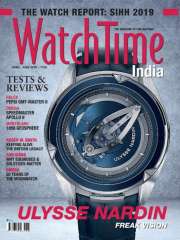 The first international luxury watch magazine, WatchTime India is conceived and designed to give the watch connoisseurs the most exclusive information and sneak previews from the world of watches. Highlights: * Watch tests * Reviews * Interviews with experts and more.