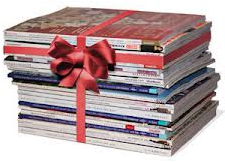 Magazine subscription is a unique gift!  It recreates the joy of receiving a gift, month after month. The reciprocal feeling of love, gratitude and caring continue all year long.
Be it your Mother, Father, Boss or Someone special Magazine Subscriptions makes a perfect gift
Gifting a Subscription could never be this easy ! This simple tool helps you get recommendations for gifts by relation, profession, occasion or interest. Choose your options and click on "Our recommendations"
Our recommendations
We will also send your personal message by mail, you will get an option to enter your message on the checkout page. Do remember to check the "Is this a gift" checkbox, enter your personal message and provide the email address of the gift receipent.