Architecture is a form of art which includes planning, designing and constructing. With a big push for infrastructure development in India there is huge requirement for Architects. To stimulate ones creative minds and to know the latest trends in Architecture one has to look at new designs and constructions. The top 10 architecture magazines in India provide just that. These cover the latest trends, new creations from famous architects and new technology, which enables new innovative designs. So go ahead take your pick from the list of top 5 architecture magazines in India.
1. Architecture+Design
A+D, is in its 26th year of publication and is the only national monthly of architecture for architects, designers, students of architecture, construction industry, building promoters and planners. Based on a very contemporary format, it portrays the modern trends in building technology, research and development in the process of design, project profiles, conservation and environmental issues, product and material information, etc. Focused at an entirely new segment of readers, A+D makes good business sense for those who are looking at promoting their products to an industry, which could add to their institutional sales substantially. A+D, is also instrumental in constituting the only national awards "A+D & Spectrum Foundation Architecture Awards" which has generated tremendous response from the leading architects and professional bodies of the country. A+D has a circulation of 58,000 copies with a readership of 3,50,000 plus readers indicates the depth and penetration of the magazine nationally.
2. Architectural Digest India
The most beautiful homes in the world. From the most beautiful celebrity homes to the smallest living spaces, AD India presents the very best of international and Indian architecture and design, inspiring to create the homes you have always dreamt of. Expect photo spreads of the best homes, stories on the latest trends and people in design, plus advise on practical solutions for home improvement. AD India helps to visualize, plan, adapt, and innovate homes to reflect the personalities of the people who live in them. As a showcase of the best of contemporary Indian design and key international trends, it is an essential resource for refined home-owners planning luxurious spaces.
3. Domus India
Domus is an international magazine dedicated to contemporary architecture, design and art. For 80 years, it has been considered the most prestigious international review of trends in architecture, art and product design, with a global readership of professionals, specialists and members of the general public. The Indian edition — the first Domus exclusively in the English language — seeks to encourage and promote innovation in the built environment. It aims to track the latest architectural and artistic movements in India and the world through its exciting content and rich visuals. Domus India carries reviews of architectural and design projects and essays that are thought-provoking and engaging. An expanded focus to understand contemporary India, through architecture and architectural practice is central to our editorial vision. The writing is fairly different from that published in many other journals and magazines, and we are constantly experimenting with developing approaches to architectural journalism and criticism. Domus is the most authoritative voices in the fields of architecture, art and design, and an indispensible tool for all design professionals. Its tempo as a monthly publication lends it immediacy and makes for it a position in the market separate from many other architectural periodicals, while the magazine's timeless content and arresting covers make it a cultural item worth collecting and archiving. Contributors include authoritative voices such as Romi Khosla, Gautam Bhatia, Ranjit Hoskote, Nancy Adajania, Annapurna Garimella, etc.
4. MGS Architecture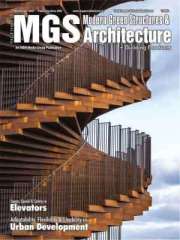 MGS Architecture projects emerging developments in green design concept, architecture, sustainable and alternative building technologies and caters to the requirements of architects, designers, structural engineers, builders, developers etc. and delivers modern building concepts which help them to improve the aesthetics, durability and moreover functionality of their projects.
5. Inside Outside
Inside outside is among the leading interior design magazines in India. Inside outside magazine is relied upon by many interior designers as well as architects. Subscribe Inside outside and get updated on your designing skills every month. Having an Inside Outside magazine subscription will give you 12 issues a year. Inside outside magzine focuses both on indoors as well as outdoors. It also gives you a different take on landscaping and its importance. Inside outside magazine subscription focuses on well-designed interiors in commercial buildings as well as residential buildings. An inside outside magazine subscription is preferred by architects, professional interior designers and even common people, as now a days everyone wants their home as well as their work space to be aesthetically perfect and an inside outside subscription will help to achieve that goal. Inside outside magazine subscription brings out the latest tends in the world of interior design. Having an inside outside magazine subscription will help you get new ideas for designing. inside outside magazine subscription covers the incredible work of established/famous as well as upcoming designers. Inside outside magazine subscription gives the designers a platform to share their experiences with the readers such that the readers can be motivated and can even learn from their mistakes. There are special columns and features in the inside outside magazine subscription on art, furniture, textile and many other things. They even carry reviews on books, exhibitions etc. inside outside magazine subscription focuses on all types of spaces, from small to huge spaces thus it helps the reader to make good use of their space and how to utilize the different architectural elements in the space. Inside outside magazine subscription breaks down the latest happenings in the world of interior design such that the common man can understand and utilise it in their daily lives. With an inside outside magazine subscription, you will not have to go to the news stand every week as it will be delivered to your door step. An inside outside magazine subscription will ensure that you have the latest edition of inside outside magazine which also includes the special additions. Order your inside outside subscription today and get ready to design.