With government's target of $5 trillion economy there is action all around. India is changing and becoming the hot bed for new businesses. A list of top 10 business magazines in India is must for any one who is interested in participating in this growth opportunity. Many steps have been taken to improve "the ease of doing business" in India too. The last budget gave huge push to infrastructure spending, health care and agriculture. These top 10 magazines keeps you updated on the evolving business landscape in India and are a must for business leaders.
1. The Economist
The economist is a London based magazine which is a part of The Economist Group and has a weekly readership of six million people worldwide. The economist magazine focuses on the political and the business aspects and links the two together. The economist magazine subscription is one of the best magazine subscription for those who are interested in the business and politics field. The economist magazine subscription in general is one of the most preferred magazine subscriptions for business. The economist magazine subscription gives an overview or an analysis of the business and political industry. The economist magazine subscription is also famous for its annual forecast of the upcoming year and along with it gives the annual pocket world in figures. The economist magazine believes in plain language, a language that a common man can easily understand, the articles are therefore in a conversational manner, which in turn makes it easier for the people to understand. The articles in the economist magazine are authentic and factual. These articles in the economist magazine subscription are not signed as they believe that what is written is more important than who writes it. The economist magazine subscription has seen huge growth in the recent years. In these years the economist magazine has added sections devoted to Europe, Asia, Latin America and international issues. science and technology along with an expanded coverage of books and arts are also covered in certain sections of the economist magazine subscription and has also introduced a new column on financial markets. In general, the economist magazine subscription gives a total over view of the general international news and talks about the political developments and prospects bearing on the world's economy.
2. Capital Market
India's foremost and largest circulated fortnightly finance and investment magazine since 1986. The magazine was a pioneer in rating IPOs on a 100-point scale. It also provide India's first Corporate Scoreboard of more than 2000 companies with 25 fields of information for each company and updated on a fortnightly basis. Stock Watch: A list of around 50 fundamentally strong companies identified by Capital Market analysts. The list is constantly reviewed and updated, adding scrips with upward potential and removing those that have exhausted their run. Today, Capital Market has evolved into a complete investment and financial magazine, which covers the entire gamut of issues affecting the Stock Markets. Topical issues, policy decisions by government, regulations by SEBI or market developments - are analysed in depth in the Cover Story. Other contents include special research features based on our in-house database on companies and mutual funds and interviews with market players and company CEOs Capital Market Magazine is full of information about the financial market. It covers all aspects of investments, banking and trading. it understands the market trends and how the future financial times are shaping up. it gives in-depth information about the capital market and the companies in the market and what the various companies are offering. It also observes different companies and brands and studies how their financial status is and how they are growing. Capital market magazine is full of expert information and advice. It contains very informative interviews that help individuals make better decisions and understand the market closely. The Capital Market magazine also contains insights on business and finance that help experts understand and study trends. The financial market is always fluctuating and a magazine like this helps us chart the directions of the movements.
3. Forbes India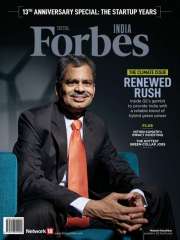 Forbes is the world's leading business magazine and since its inception in 1917, Forbes has stood, unwavering, for one overriding principle: the unshakable belief in the power of free enterprise. Forbes mission has always been clear and unchanging: to provide insights and information that ensure the success of the world's most influential. Faithfully fulfilling that promise is what draws today's most influential business leaders to Forbes. These high-powered decision-makers represent a community of like-minded individuals bound by their unshakable belief in the spirit of free enterprise. They contribute to it, profit from it and their lives are better for it. For them, Forbes is the quintessential Capitalist Tool. True to its pedigree, Forbes India has donned on the role of the drama critic to Indian business. Since its launch in 2009, the magazine has helped readers connect the dots, form patterns and see beyond the obvious, giving them a perspective beyond the obvious.
4. Business India
BUSINESS INDIA is India's first and foremost business magazine. Launched in February 1978, this business fortnightly pioneered the market for business journalism in India. Through the years, despite new entrants in the field, BUSINESS INDIA enjoys the enviable reputation of being India's most respected and credible business magazine. BUSINESS INDIA is today, celebrated for its authority and credibility; for its ability to look into the future; for its in depth analysis; and for its wide range of coverage. It is a 'Must-Read' for business leaders, policymakers, institutions and academia.
5. Time Magazine
Time magazine is one of the leading weekly news magazine in the world and is trusted by over 21 million readers. TIME magazine gives information on global events, politics, business, technology, education and more important issues. A time magazine subscription India helps you get up to date and is known for its special segment, known as the person of the year. A TIME subscription India will help you to be aware of what's happening around the world in the field of politics, business, technology, etc. TIME magazine India gives an authentic view on important issues, interests, concerns in Asia and the world. A TIME subscription India has 54 issues, thus will give you a contemporary analysis of every week. A weekly TIME magazine subscription will give an analysis on different topics around the world which will let you have an unaccustomed outtake towards the society as there are views by different people that may differ from yours. The sharp and reliable reporting of TIME magazine is the main reason as to why a TIME magazine subscription India is preferred by people all over the world. TIME provides a clear concise and forward looking take on the world, allowing you to make most of your time. TIME magazine subscription India breaks down the latest news headlines and issues such that the common man can understand that how it may affect their daily lives. With a TIME magazine subscription, you will not have to go to the news stand every week as it will be delivered to your door step. A TIME magazine subscription will ensure that you have the latest edition of time magazine which also includes the special additions like TIME magazine India person of the year and TIME 100 list of influential people. Order your TIME subscription today and get ready to have a different take on the world.
6. Economic & Political Weekly
Economic and Political Weekly, (EPW) is India's premier social science journal which is widely respected globally to its scholarship and independent views. It is a journal offering a range of articles across disciplines in every issue. It offers something to the student, the general reader as well as the specialist.
7. BW BUSINESSWORLD
Business World is 35 years old business magazine in India. It is a premier business magazine providing deep insight into world of business with business news analysis, analysis and opinions from financial experts and latest news coverage.
8. FORTUNE INDIA
Fortune India magazine is considered the best international business magazine in present time. Fortune India magzine is a branch of fortune magazine, whose headquarter is in New York and is one of the most reputable business magazine. Fortune magazine was Launched in India in October 2010 in a licensed partnership between ABP Group of Publications & Time Inc. Fortune India magazine subscription is known for its insightful reporting on the latest happening in the field of business and is trusted by the senior most policy and decision makers. Fortune India subscription gives justice to the global brand of fortune. Fortune India magazine subscription contains segments such as fortune India 500 and is casually referred to as the fortune 500. Fortune India magazine subscription gives an in-depth information on the leading businessmen in India and covers their business tactics and decisions. If you are thinking to start up your own business then fortune India is the best magazine for you. Fortune India magazine subscription will help you learn form the best businessmen in the country. Fortune India magazine subscription is not only good for business but also in general is a great magazine to get in touch to the happenings in the country in term of the country's financial and economic growth. fortune magazine subscription breaks down the latest news headlines and issues in the field of business such that the common man can understand that how it may affect their daily lives. With a fortune magazine subscription, you will not have to go to the news stand every week as it will be delivered to your door step. A fortune magazine subscription will ensure that you have the latest edition of fortune magazine which also includes the special additions. Order your fortune magazine subscription today and get ready to have a different take on the world of business and economy.
9. Autocar Professional
Autocar Professional is a twice-monthly B2B publication targeted at the Indian automotive industry. It's delivered to key executives and decision-makers, and provides in-depth analysis of this booming market through its concise news, incisive interviews and accurate data. It also gives the latest information on the automotive markets of China, Taiwan, Indonesia, Malaysia and Thailand. Autocar Professional also publishes an annual Directory, a comprehensive guide to almost 2000 products and companies.
10. Business of Fashion
Focuses primarily on the design, manufacturing, merchandising, branding, marketing & retailing across all aspects of the business of fashion. Business of Fashion plays a directional and supporting role in the evolution of branded fashion in India. Besides chronicling the activities of the country's largest branded fashion companies, its rich researched content also brings to the forefront regional and single store retailers from diverse markets, marketing and retail of branded fashion in India, effectively linking retailers and fashion brands across the country.